Achieve new degrees of operator intimacy.
The FoodView 360° Research and Innovation Center provides insights, access and intimacy that no traditional foodservice research facility can. On one side is a state-of-the-art focus group room. On the other is a commercial grade kitchen. And at the center of it all is you.

Now you can see the true performance of your products as operators or consumers interact with them. In fact, operators can go from package to plate, with all the tools and room they need. That means your product is prepared in real-world conditions. So the insights you gain will hold up in the real world.

Research and Innovation Center
The FoodView 360° commercial-grade kitchen is fully functioning with an endless degree of equipment and food handling customization
The FoodView 360° viewing room can be oriented toward the kitchen or the focus group room, creating a multiple-venue research experience
The FoodView 360° focus group room is state-of-the-art and offers limitless foodservice research versatility
FoodView 360° offers full circle solutions.
A suite of solutions as flexible as your research and budget needs demand.

Our FoodView 360° foodservice marketing research services offer every avenue to find the real world insights you need in today's highly competitive marketplace.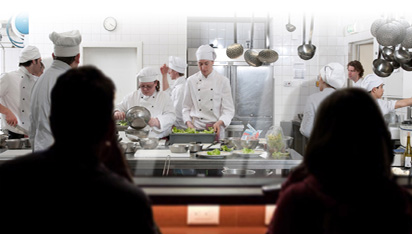 FoodView 360° is full circle thinking.
The FoodView 360° experience is much more than our facility. You'll work with the highly skilled foodservice and consumer food marketing researchers and analysts of Product Evaluations. Our team brings industry experience, sophisticated tools, and advanced analytics to your product initiatives. That's full circle thinking, and it's precisley what your project deserves.