Taste
Tests
The ultimate taste testing insights with foodservice prep and technology-driven efficiency.
Central Location Taste Testing (CLT) deliver important results in real time. A CLT performed in FoodView 360° utilizes wifi connected tablets for fast and accurate data collection. Our high efficiency designs, data collection capabilities and food preparation capabilities mean accurate and high-speed turn-around for your initiatives. Track your results as they happen, make decisions on the fly!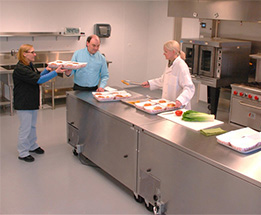 Taste Testing at a glance
What is it:
A central location Taste Test is a quantitative research design intended to render statistically valid product performance ratings.
How it works:
Research designs (paired comparison, sequential monadic, round robin) are selected based on number of products to be assessed and test objectives:
Product preference (current vs. reformulation, brand A vs. brand B)
Product acceptance (product is as good as alternate product)
Product performance on key attributes (diagnostic ratings of flavor/texture/appearance)
Product/concept fulfillment (product delivers on promise of concept/positioning)
Products are prepared as they would be in a foodservice venue, utilizing commercial grade equipment and trained culinary staff.
Who it involves:
Typically, CLTs are consumer driven tests, with between 50 and 100 respondents per location (dependent on objectives and product variables). Consumers are selected to represent the target audience:
Frequent specific eating establishment types or restaurant brands
Like and order specific menu items when dining out
Represent target age and gender groups
Other screening criteria are added as needed for the project
What you'll learn:
Standard deliverables include PowerPoint report and data tables:
Product preference/ratings vs. comparison products
Product diagnostic ratings (flavor/texture/appearance) scores for reformulation direction
Penalty analysis (statistics identifying product deficits that negatively affect purchase intent)
Want more insights?
Pull-out focus groups/interviews are available. Simply select a sub-set of individuals based on their test responses to participate in sessions to discuss their POV on your products.
You can add texture and depth to respondent ratings through probing and qualitative discussion: "You commented that the appearance of the product was under-cooked, tell me more about that."