Research
Technology
Research technology captures every revelation.
In research, you never know when the "AHA" moment will happen. But you certainly can't afford to miss it. That's why FoodView 360° offers you research technology that captures every insight and gives you all angles of the story. You'll see the emotion, hear the revelations and experience the moments that can change everything.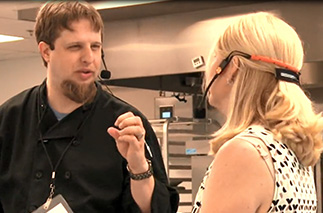 Foodview 360° Technology
Audio/Visual
FoodView 360° features state of the art AV capability to bring your research (product) journey to life in stunning HD.
Online interviewing/real time data
Get instantaneous results throughout the course of the project thanks to tablet driven surveys on a wifi powered platform.
The FoodView Experience:
Multi-camera/multimedia videography
Capture insights from every angle and incorporate a full array of multimedia options.
Your video experience includes all forms of stimulus as featured in the research process
PowerPoint/presentation decks/POS
Videos, instruction, demonstrations
Product images, graphics, storyboards
Food photography
Complete visual documentation of what was tested at pivotal points in your product development process with product photography and image capture throughout the project.
Overnight operator/consumer feedback
Keep the process moving even overnight! Build concepts on day one, review results on day two. Make decisions and keep your innovations moving ahead.
Green screen interviewing
Create a custom, professional look by superimposing graphics into your executive interviews. Place your respondent on a backdrop that captures the look and feel you need to share your insights.
Online Bulletin Boards
Bulletin Boards give you the ability to "mass up" qualitative responses in a highly efficient way. You can quickly expand your learning by pulling more respondents into your area of discovery.